December 15, 2020
Here at Doozy Vending, we LOVE Christmas — the lights, the food, Christmas markets, Christmas tree lighting, even the shopping. But we've come to accept — after sobbing into more than a few pumpkin-spiced lattes — that the Christmas season is going to be a bit more, well, low-key this year.
Now, we completely understand the urge to run out, grab the biggest box of Christmas choccies you can find and consume them over the course of one viewing of Love Actually. But, before we add to the Covid (shudder) kilos we've already collected this year (yes, us too), or worse, create a national mince pie shortage (come on, the loo roll fiasco was bad enough), have a look at these recipes for healthier festive alternatives we've found which will leave you feeling just as merry and bright as any traditional Christmas treat!
Nakd Cocoa Orange Bar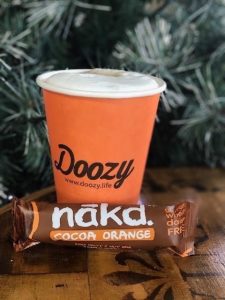 These bars of orangey fudgy deliciousness are a hit all year round but especially this time of year. We happen to stock them and other favourite Nakd Bar flavours in our Doozy vending machines, so if you get a hankering for a gluten, wheat and dairy free version of that classic Christmas flavour, you know where to go.
Spiced nuts

Why fix what isn't broken? A mainstay for Christmas, this version of the traditional spiced nuts takes no time at all to make and it's vegan, so you can share them with everyone.
Vegan Rum Balls

Not only are these particularly indulgent treats vegan, but they're also made with maple syrup and dates instead of unhealthier sugars. Don't have too many though, or you might find yourself performing some Christmas karaoke hits sooner than intended…!
Keto chocolate orange

It's true — Keto chocolate orange! (Ok, you got us, we love chocolate orange.) If you want to really get into it, you can also order yourself some orange slice moulds to complete the whole Christmas classic experience.
Gluten-free mince pies

If you or anyone in your family is gluten-free and gets mince pie FOMO come December, this recipe is the answer. Packed full of natural, delicious goodness, everyone will be able to tuck in (but we don't blame you if you keep a little stock for yourself!).
Mandarins

We know what you're thinking, but no, this is not a cop-out — just a reminder to check your Santa stockings if you get peckish over the festive season. After all, what would Christmas be after all without a couple of mandarins from Santa?
Merry Christmas from all of us at Doozy Vending!