September 14, 2018
September marks the start of Autumn, crunchy leaves, big jumpers and cosy fires. For us it's an important anniversary – the birthday of Doozy and the start of our healthy vending journey.
Way back in 1990, Revive Vending was born. Years of experience taught us many things, the most important was that the face of vending needed to change. It remains one of the most convenient ways to get snacks and cold drinks and yet they are full of high sugar products. We wanted to focus on healthy vending for some time when it became clear that one shelf within a machine just didn't cut it. So in order to make a dent in the obesity crisis – we  set out to make healthy vending the convenient option.
With research behind us and over 25 years of vending experience we installed out very first Doozy (then called honest) at Solent University in September 2014. The Uni embraced the Doozy concept, welcoming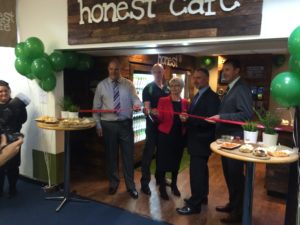 not just one Doozy location but a variety of Doozy Cafes and 'grab and go' areas. Since that exciting day we have introduced Doozy to Salisbury Hospital, Portsmouth University, Barton Peveril Sixth Form and New Forest Leisure Centres to name a few.
To celebrate here is a look some of our awesome Doozy locations. From hospitals to sixth forms and everything in between.
Solent University
Located in the heart of Southampton, Solent University welcomed our very first Doozy in September 2014. We've introduced a number of locations since then. This includes 'Doozy at the Den' and 'The Dock'. These two were both created for social spaces and so include seating, wooden flooring and ceiling tiles. The perfect inspirational area for students and staff to relax or study. We introduced Doozy Go locations at the library and 0ther key locations. Most recently, we installed a new look Doozy for their brand new building 'The Spark' which fits in with modern interior.

Barton Peveril Sixth Form
Sixth Form College, Barton Peveril, introduced Doozy in September 2017 ready for the new term. It was a hit with the students. One even suggested it was 'just the right amount of healthy'. The machines stand out within the modern interior of the college, yet the sustainable wooden surrounds suit the location.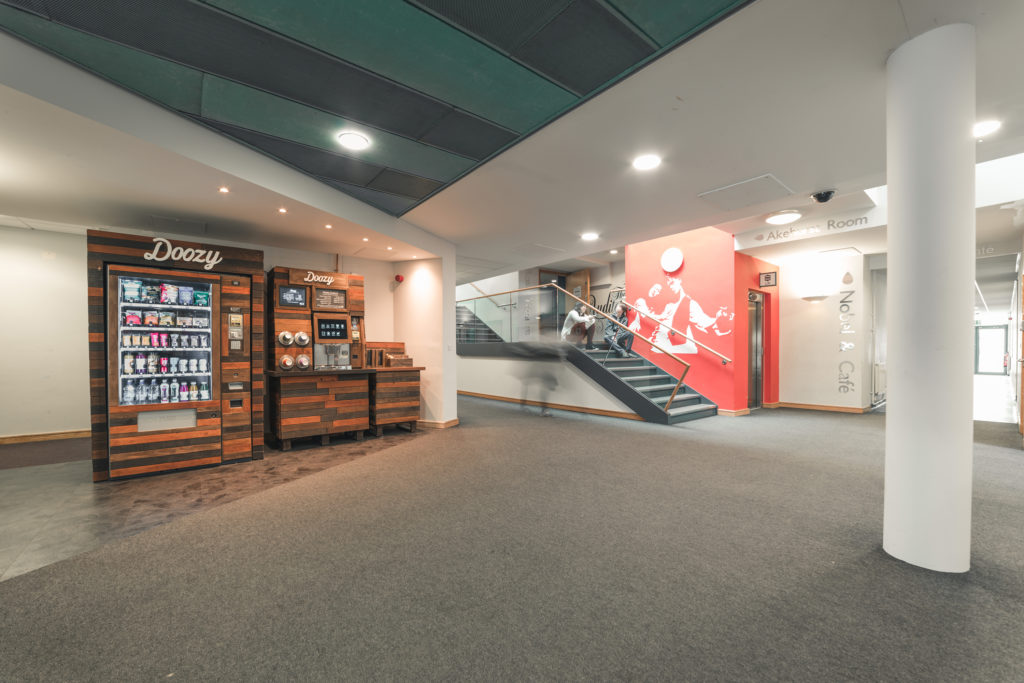 Salisbury District Hospital
In 2015 Salisbury District Hospital introduced their first Doozy to their patients, staff and visitors. There are now eight Doozy locations around the hospital with more plans ahead. The Doozy locations are on major corridors and in departments such as A and E. Hospitals in the UK are under pressure currently to reduce the amount of high sugar food available and provide healthier products. Our Doozy range sits within these guidelines – the perfect fit!

New Forest Leisure Centre's
We started working with New Forest District Council (NFDC) in 2015 and installed Doozy at their five leisure centres across the New Forest. NFDC were looking for an eye-catching vending option which would provide healthier options for their customers. We were able to offer that for them. As they had a variety of sites, it was clear that we were going to have to tailor our Doozy locations differently. One of the centres even moved a wall to make space for us. The installs are a success with one customer stating: "I must congratulate you on your café, the total lack of fizzy drinks and unhealthy snacks is a shining example of good practice."

Here is a look at our Doozy locations!