August 7, 2018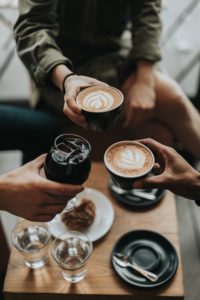 The coffee market in the UK is huge, worth nearly 10 bn. You can't go to a city or town in the UK without seeing a number of them dotted around, full to the brim. Even as consumers have turned away from their favourite shops and restaurants on the high street, the coffee shop market has grown, including premium coffee vending machines.
It seems as if a nation of tea drinkers has fallen in love with coffee. In the last 10 years, coffee shops have spread across the UK. A decade ago, there were less than 10,000 places to buy a coffee. By the end of 2017, there were over 22,000 coffee shops. Branded outlets had doubled in numbers. Shockingly, research has shown that Brits spend on average £2,111 per year in coffee shops.
For a number of years, Costa Coffee has dominated the UK's £9.6bn coffee market – but sales fell last year for the first time. The question must be asked, is trouble brewing for the high street brand? There has been some thoughts on why this might be, with ideas based on the decline of the high street in general and introduction of premium coffee vending machines.
Costa – Still dominating the UK Coffee Market.
In the UK, Costa Coffee clearly dominates the coffee market. Set up in 1971, they now have around 2,300 stores in the UK alone, twice the amount it had in 2010. This is in comparison to the next two biggest brands, 956 Starbucks and 675 Caffe Neros. In 2017, Costa was voted the Nations Favourite Coffee Shop for the 8th year running, and in early 2018, made a ground-breaking product placement deal with Coronation Street which resulted in a Costa on the cobbles. Not only does it appear on our tv screens, but also on our roads, in our railway stations, hospitals, pubs and even cinemas.
Coffee shops are not the only venture for Costa in recent years. You can now get your caffeine fix on the move through premium coffee vending machines. Costa have introduced over 6,000 Costa Express vending machines. These machines have opened up the premium coffee vending machine market for other companies as now consumers expect to get high quality coffee from them. And are prepared to pay for it. Shops which didn't focus on selling coffee before, have started to cash in on this market as well. McDonalds heavily promote their McCafé brand and Greggs now sell premium coffee too.
Costa, Starbucks and Caffé Nero hold the top spot with 53% share of the coffee shop market. However, independent coffee shops are on the rise. Even with loyal followers, these big brands could be challenged by quirky independent cafes, or premium coffee vending machines.
Are people falling out of love with Costa or Coffee?
In January 2018, Costa Coffee announced that its sales dipped by 1.5% in the 3rdquarter of 2017 – only the second time they have fallen. Citigroup (investment bank) research suggests that due to the huge amount of growth recently, the opening of new stores will stall in the next 5 years.
Considering 70 million cups of coffee are drunk per day in the UK, it doesn't however seem like the nation has fallen out of love with coffee. Instead there has been a change in the way coffee drinkers behave. Online shopping and high rent costs have taken people away from the high street. And premium coffee vending machines have reached such a high quality that they are now comparable, if not better, than the high street alternative. The machines can be placed within stores, petrol stations and unmanned cafes, much more suited to the convenient lifestyle that we are all used to in the 21stcentury. As well as convenience for customers, there are benefits for the owners as well. In particular they need less staff as the machines do not need to be staffed 24/7, and so can be open around the clock.
Cyril Lavenant, Food Service Director UK at the NPD Group (a market researcher), thinks we may be even closer to coffee shops stalling. He suggests, "Already there's huge competition in the coffee market – it's not only the big coffee shops, it's everyone from fast food to bakeries – everyone is offering coffee".
Coffee shops still very much have a place.
Coffee shops have seen a slight decline in sales as high streets have struggled but they have still important in every-day life. A coffee shop has become a social hub where people not only socialise but work too. 4 out of 5 people spend part of the working day doing their jobs in a coffee shop on phones, laptops and tablets. There is a rising trend in the number of people who use coffee shops as offices, sometimes known as the third space – somewhere for people to escape to and socialise in.
Starting to pop up is unmanned cafés. A blend of premium coffee machines and café. They need less staff but still provide the 'third space'. We have seen this in action with our own Doozy unmanned cafés. People come in to have meetings or just take a break, somewhere different from their workplace. At Doozy HQ, we opened a showroom which local people are welcome to come in to use and of course have a premium Doozy coffee. We share our business estate with a variety of companies and charities, including Help for Heroes, who regularly drop by for a meeting or a break. One employee, Sue, has this to say,
"Thank you to the team at  Doozy for allowing their showroom to be used as a meeting venue. As a sole trader it is a real treat to find a unique space that is suitable for meetings and for coaching sessions with clients. The décor in the showroom is relaxing and a little quirky, mix that with great coffee, some thought provoking quotes on the walls and you have the best setting to work in."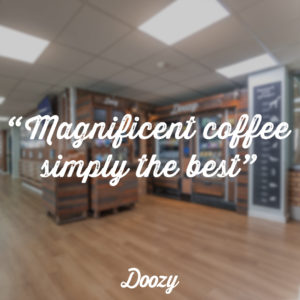 Interestingly, shifting consumer tastes and shopping patterns have replaced the pub with the café as a primary social venue, with some predicting coffee shops will overtake pubs by 2030.
There is no doubt that premium coffee vending machines are on par and sometimes better quality than their high street alternative. It seems over the next few years, while convenience is key, the desire for them will continue to grow. However, a huge number of people still visit coffee shops regularly and therefore they very much still have their place.