June 26, 2018
Coffee has been developed over the years with brands such as Fairtrade and the Rainforest Alliance ensuring that, at its source, coffee is sustainable and ethical. But what about when the coffee beans reach their destination? How ethical are companies then? And why is eco-roast coffee important?
Firstly, why should we care?
400 billion cups of coffee are consumed each year which means 500,000 tonnes of residual coffee waste is sent to landfill each year too. If coffee companies can work out a way to deliver the best coffee without producing any waste or carbon footprint, then this huge waste can be saved from ending up in the tip.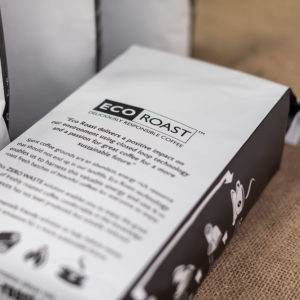 Eco-roast coffee is the answer
To address this challenging consumer issue, our partners 918 Coffee stepped in. They found that whilst many people choose coffee beans from sustainable sources they were not roasted ethically, and as a result and the coffee waste was confined to the bin. They set out on a mission to ensure their coffee was among the most ethical in the world.
It took four years of hard work to figure out the best way of roasting coffee with as little waste as possible, and the solution became 'eco-roast coffee'. 918 discovered they could harness the energy in waste coffee grounds and use them to roast batches of fresh coffee. Now, the team can roast up to 3 tons of coffee per day using 100% coffee waste for their heat source.
"The collected coffee grounds from Doozy are recycled into fuel for our EcoRoaster to roast fresh Coffee. Doozy and 918 Coffee Co, together are diverting this valuable resource from landfill and putting it to good use for the benefit of all." – Mark from 918 Coffee.
In 2015, we brought our first batch of eco-roast coffee after falling in love with the concept, and we soon found out the coffee was also delicious! Using the coffee wasn't enough though, we wanted to be a part of this intelligent and ethical process and in 2018 we started to bring back our waste coffee grounds to Doozy HQ for 918 to collect. A circular coffee eco system.
In a nutshell this is how it works.
We receive our bags of eco-roast coffee (delivered by electric van).
Doozy operators head out to our various locations and fill the machines up with the coffee beans, ready to make the perfect drink.
At the same time the old coffee grounds are collected and brought back to Doozy HQ.
918 arrive at Doozy HQ to drop off new coffee beans and at the same time pick up the coffee waste.
The waste is then used to roast the new coffee beans ready to go out again!
Every two weeks we send back 8 boxes of coffee and tea grounds to 918 which equates to 200kg of waste saved from landfill. This means that this year we will send back 5200kg of waste. This is the equivalent to 4 mini coopers. What an impact that will have on the environment!
Here's what Tim Varney, owner of Doozy, had to say,
"We are always on the lookout for ways to reduce our carbon footprint. 918 offer a unique and innovative way to recycle coffee grounds which would otherwise have gone straight to the dump.
It's no extra hassle for us because our team head out to site every-day to stock and clean machines which is an added bonus. It takes very little extra time and the carbon footprint stays the same as the vans make the journey already. We have a unique relationship with 918 coffee, their ethical and sustainable approach to business and the environment, echoes what Doozy is all about".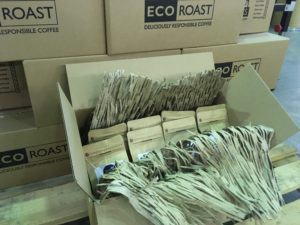 Get in touch with us today if you would like a Doozy coffee machine