March 25, 2019
Our busy lifestyles leave us little time to ensure we are eating the right amount of protein our bodies need. Some brands have realised the need for people to consume more protein on the go. Unfortunately, many of these products are full of sugar and fat. However, hope is here. In the form of tasty new and natural protein bars.
Firstly, let's take a look at why protein is so essential for us.
Our bodies rely on protein. In fact, our organs, tissues muscles and hormones are all made from proteins. And the protein found in foods is used by every part of the body to grow, function and develop. For this reason, a lack of protein can cause all sorts of problems for our bodies. This includes mood swings, difficulty losing weight, lower immunity and sleep problems. And yet a protein-rich diet has a whole range of benefits.
Protein supports Weight-loss:
Protein signals the release of appetite-suppressing hormones which makes us feel as though we are full. This helps us not to overeat and supports weight loss. You need a combination of factors to help you lose weight including eating healthy and plenty of exercise. But research has shown that including lots of protein in your diet can really help you shift the pounds.
Protein boosts energy levels:
Protein bars are synonymous with gym lovers. It is not just a fad though. Protein really does boost energy levels and supports you when you work out. In addition, when we exercise, we damage muscle tissue. Protein helps them repair and grow back stronger.
Protein improves mood
One of the best benefits of protein is that consuming it improves your mood. Some of the amino acids from protein foods are needed to balance hormones naturally. This way, protein helps control our mood and can even act as a natural remedy for anxiety.
Protein keeps the brain healthy
Like with our mood, the amino acids in protein are needed for our brains to concentrate and focus. Research has shown that a diet lacking in protein presents people with learning and coordination issues.
Other benefits include keeping your bones healthy, protecting your heart and keeping your skin looking youthful.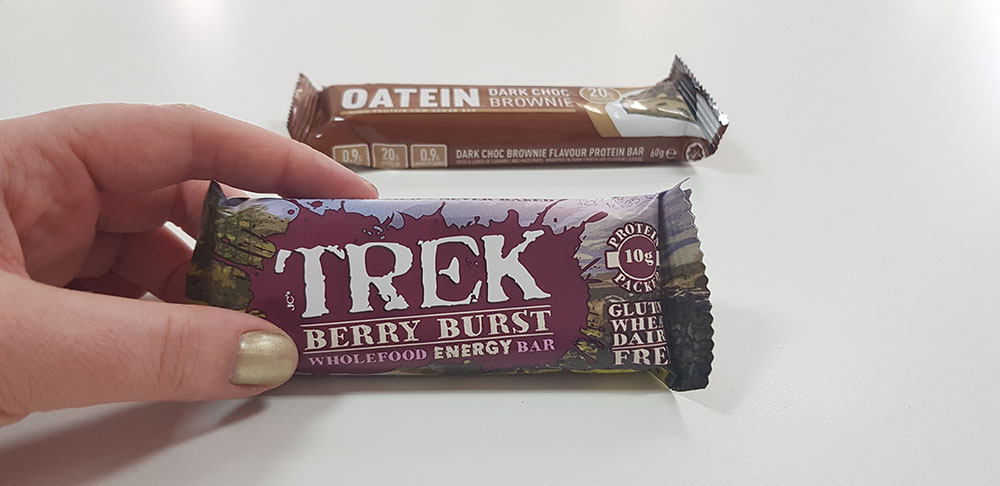 It is well known that protein can be found in meat products. However, there is a whole range of food including quinoa, leafy greens, nuts, eggs, seeds and beans which are all full of protein. To help us consume protein when on the go, a number of brands have brought out delicious protein bars. For example, Trek bars are not only 1 of your 5 a day but they contain 10g of protein. A perfect after gym pick me up and they come in two yummy flavours, Berry Burst and Cocoa Chaos. Another popular Doozy protein bar is Oatein. These protein bars contain a massive 20g of protein. Both protein bars either contain no sugar or low sugar so you can enjoy them guilt free.
Enjoy the benefits of protein filled diet, and include a tasty protein bar… or two!