February 28, 2018
Yes, you read that correctly. All things being equal, we'd rather you chose not to use our disposable coffee cups. Let us explain.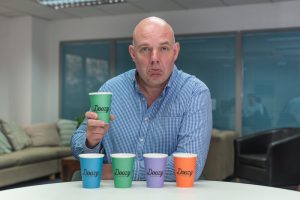 Attention has turned towards the huge amount of plastic we unnecessarily throw away each year. One large contribution is the 2.5 billion disposable coffee cups. As a way to combat this issue, 2018 started off with a new possible tax announcement, the proposed latte levy. Although recycling coffee cups is possible in the UK, the thin plastic coating on the interior means it is only possible in a few centres across the country. The latte levy, a 25p charge on take away cups, was suggested as a way to encourage consumers to bring their own cups into stores. Many coffee shops already offer money off when a reusable cups is used but the charge is believed to have a bigger impact on consumer behaviour.
Although the latte levy is only a proposed tax, this week, Starbucks announced they would be adding an additional charge of 5p for people who need a single use cup in some of their stores. Whilst this is only a trial and will only affect 35 stores in London (at first), attitudes are changing and businesses across the UK are looking for more ways to reduce their plastic waste.
We are aware of the current talk about plastic waste and are looking for more ways to reduce, reuse and recycle ourselves. That is why, whilst we love our new Doozy cups, we like you to use them only when needed. Instead make use of the fantastic reusable ones on offer (psst – we've got our own coming soon!).
On that note, here's the creation of our awesome new coffee cups.