August 30, 2018
The war against sugar continues as the government hits out at energy drinks, at last.
In April, we were pleased to see the sugar tax introduced as a response to rising obesity concerns. Now, the government are preparing to go a step further.
The government has launched a public consultation on plans to make it illegal to sell energy drinks to children. This means that the sale of energy drinks could be banned in England to anybody under the age of 18. The ban is part of the governments Childhood Obesity Plan, which commits to halve childhood obesity by 2030. There is a growing fear that energy drinks are harming childrens health, behaviour and even education.
The Problem with Energy Drinks
Drink brands such as Redbull, Relentless and Monster have become increasingly popular. It seems that low prices and high sugar levels are to blame for energy drinks being so appealing to youngsters. However, these sugared energy drinks have 60% more calories and 65% more sugar, as well as considerably more caffeine than normal soft drinks. A 250ml can of Redbull contains about 80mg of caffeine, roughly the amount of a similarly sized cup of coffee and three times the amount of Coca-Cola.
The excessive consumption of them has been linked to a range of health issues including; obesity, tooth decay, headaches, sleep problems, stomach aches and hyperactivity. In addition, surveys from teacher's unions have suggested that energy drinks also contribute to poor behaviour in classrooms, although this has been contested.
Prime Minister Teresa May said, "Childhood obesity is one of the greatest health challenges this country faces, and that's why we are taking significant action to reduce the amounts of sugar consumed by young people and to help families make healthier choices."
"With thousands of young people regularly consuming energy drinks, often because they are sold at cheaper prices than soft drinks, we will consult on banning the sale of energy drinks for children.
"It is vital that we do all we can to make sure children have the best start in life and I encourage everyone to put forward their views." (Souce: BBC News)
What is the Ban on Energy Drinks? 
Food labelling laws already require any soft drinks with more than 150mg of caffeine per litre to carry a warning about its high caffeine content and that they are not recommended to children. Despite this, two thirds of 10-17 year old's and a quarter of 6-9 year old's regularly consume energy drinks.
This fresh ban targets all shops selling energy drinks and potentially all vending companies as well. The ban would apply to drinks containing 150mg or more of caffeine per litre. Whilst this won't affect our Doozy products as we don't sell energy drinks, it will have an impact on the industry as a whole. For those who ignore the proposed ban, a heavy fine is likely.
This is not the first time such a ban has been discussed. In March, a selection of major supermarkets signed up to a voluntary ban for under 16 year old's. Just 21% of the UK grocery market, including smaller shops, signed up. Although this was considered progress, it did not do enough to protect children from the harmful effects of energy drinks.
Currently the ban is only expected to happen in England, but Scotland, Wales and Northern Ireland have the power to implement it themselves.
The Proposed Ban on Energy Drinks Stimulates the Need for Healthy Vending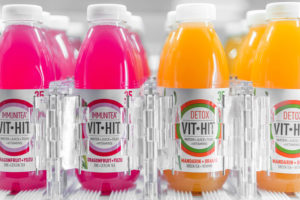 We decided at the start of our Doozy adventure that we would not sell energy drinks at all. The unbelievably high sugar and high caffeine content ruled them out of our menu. Instead we chose brands such as Vit Hit and Juicy Fuel Cola who provide delicious, non-harmful drinks. This is particularly important as we work with healthcare, leisure and education providers, who are in a position to encourage children to lead healthy lifestyles.
"We already provide healthier drinks and snacks to a number of organisations including Portsmouth, Winchester and Southampton Solent Universities, Salisbury District Hospital and a number of sixth form colleges. We are seeing an increasing number of requests from organisations wanting to provide healthier options and a more pleasant vending environment for their students, staff, patients or customers. It's a very exciting time, and the vending industry needs to play its' part." – Tim Varney, MD of Doozy.
What do you think about the ban facing energy drinks?