November 18, 2019
We are fast becoming a nation of coffee drinkers. In the UK alone we get through 95 million cups of coffee a day. Thanks to advances in technology, we no longer need to make a trip to a coffee shop to get our fix. Vended coffee has come on a long way over the last decade, now we can get outstanding drinks straight from a coffee machine. For organisations looking to improve refreshments for staff and visitors, this means there are alternatives to installing a full coffee shop. We've broken down the pros and cons of both coffee shops and coffee machines.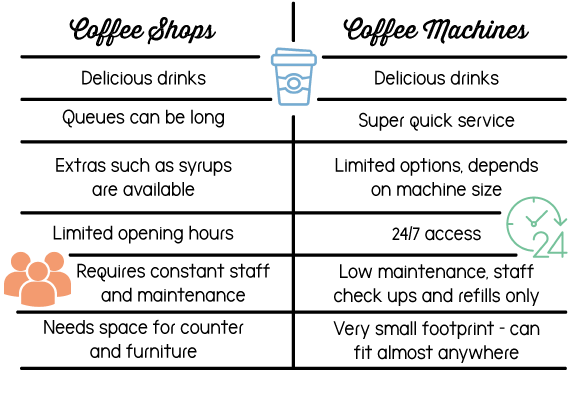 Time
Our time is precious to us and sometimes standing in a queue for 15 minutes just doesn't cut it. Coffee shops do provide a place to take a break, so if time is on your side, they are perfect. But, for those in a rush, a coffee machine will provide a drink just as delicious in a fraction of the time. Our Doozy coffee machines take around 45 seconds. No queues to see here.
Due to the little maintenance needed for a coffee machine, people can have access to them 24/7. A coffee shop cannot have this luxury as staff are needed. It is essential for many organisations to have access to refreshments around the clock. For example, a university library open late or a hospital where staff work night shifts.
Taste
Coffee machines are now so advanced that it is hard to tell the difference between shop bought and barista made. With the coffee shop, you get the benefit of human interaction and the option to add extras, such as syrups. Technology has evolved, and today the drinks we can get from machines is outstanding. From a frothy latte to a warming cup of tea, something to suit everyone's taste buds. Some machines will even offer options for decaf.

Cost
Introducing a whole coffee shop to an organisation could be a costly gamble. Not only will constant staff need to be employed but a lot of equipment and of course furniture would need to be purchased too. And even then, only time will tell if the cafe can make the money back. Coffee machines carry none of this risk. They can be placed at any location and trialled to find the best spot. At Doozy, we often trial unplumbed coffee machines. They require no water connection whilst being trialled. This way we can move them around until we find the ideal home where they can then be plumbed in.
Space
Undeniably, a coffee shop will take up a considerable amount of space. For large organisations, this can be an asset. Somewhere for staff and visitors to sit, relax and take a break. For many companies though, space is a premium. Coffee machines come in a variety of sizes depending on needs and requirements. Freestanding with a large capacity or table-top for the smallest of spaces. There is one to suit every location.
The choice of a coffee shop or coffee machine is personal to each location. Some organisations don't need to choose. They can work well alongside each other. The coffee machines helping to reduce queue times and provide an offering 24 hours a day. The coffee shops offering choice and somewhere to sit/take a break. Whichever your preference, I think we can all agree that society expects access to delicious coffee. And from the tiny tabletop machine to a full coffee shop, all organisations can provide it.