May 11, 2018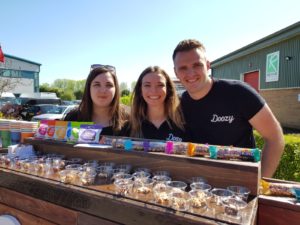 Each year, on the first bank holiday weekend of May, villagers from Downton and guests flock to the village green to celebrate the beginning of Spring, and the weather getting warmer. The event is called the Downton Cuckoo Fair, and for it's 39th year attendees were treated to some seriously warm weather, at times it hit 26 degrees!
Whilst craft demonstrations, maypole dancing and duck racing were going on inside the fair, just outside we were providing some delicious healthy samples of food and drink.
That's because Downton, a picturesque village on the edge of the New Forest, also happens to be the home of Doozy. And so, on Saturday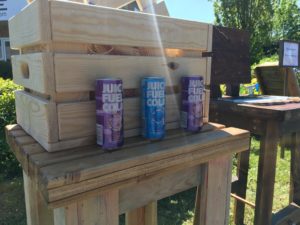 morning we set up our wonderful sample table, along with handcrafted furniture from our Doozy craft range outside our building. As visitors to the event parked up and headed along to the Downton Cuckoo Fair, they wandered past us, stopping for a chat and to see what was happening. Hundreds of people tried our samples, enjoying kind bars, and protein products. A particular favourite was the Juicy Fuel Cola, carefully kept in a cool box for a refreshing drink in the hot weather!
The positive feedback wasn't just face to face with our Doozy team, but also started making it to Facebook:

On the day we also held a competition to enter a prize draw and win a Doozy hamper full of yummy healthier alternative food and drink (with some treats thrown in too).
Out of nearly 100 entries, Gemma Crowther from Basingstoke was randomly selected, and presented with her luxury hamper (in a handcrafted Doozy crate, of course!) by Alistair Lockhart, Marketing Director of Doozy. Well done Gemma!
Speaking after the event, Alistair commented, "It was great to use our prime position next to the A338 and close to one of the car parks to let many Cuckoo Fair visitors and residents know about Doozy, what we do, and try out our delicious products for free. We had some brilliant feedback, and the team enjoyed a day out in the sunshine.
"Interestingly, we also had a couple of parents suggest we contact their childrens' schools or colleges to talk about healthy vending, as they felt their current offer was too sugary. We'll be doing just that!"