May 15, 2018
We have been watching this compelling BBC series over the last few weeks, featuring celebrity chef and food campaigner, Hugh Fearnley-Whittingstall (of River Cottage fame). We were particularly interested in an exchange about free fridges and free vending machines provided by leading brands – which we'll come to in a minute.
Deciding to take on Britain's ballooning obesity crisis, Hugh set to question major food manufacturers and retailers, as well as a target to make Newcastle residents lose 100,000 pounds of weight over one year, under the campaign name 'Newcastle Can'. Pretty ambitious.
From our perspective, as a healthy vending company, we have been focusing on healthier choices since Jamie Oliver first came onto our screens in 2005 criticising 'turkey twizzlers' and school dinners. We have conversations every week with hospitals, universities, colleges and businesses on how they can improve their vending offer. Whilst it is heartening to see the beginning of a movement away from sugary, fatty, junk foods in some of these environments, Hugh's programme showed us there is a looooong way to go yet.
In one part of the programme he allows a number of children to do a supermarket sweep and come back with the foods they would like to eat. In addition to the inevitable chocolate and sweets (a given) Hugh takes great issue with the amount of sugar in breakfast cereals (adorned with colourful cartoon characters) and particularly food giants Kellogg's and Nestlé who have not adopted the colour-coded 'traffic light system' to highlight fat, sugars etc. (By the end of the series Nestlé have agreed to replace their monochrome traffic light warning with something customers are more likely to pay attention to. Hugh is still waiting on a response from Kellogg's.
He also draws attention to the wall of sweets and chocolate customers have to walk past in WHSmith before they can buy their stationery, newspaper or book – designed to hook in consumers for an impulse purchase. He estimates that WHSmith sell a whopping 900 chocolate bars every 45 seconds. Even at the 'self-service' checkout, before Hugh can pay he is prompted to buy a discounted Terry's Chocolate Orange. What understandably pushes Hugh over the edge is receiving vouchers for 6 days' worth of discounts for McDonalds with his receipt.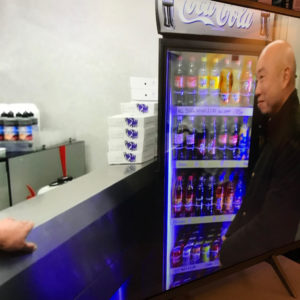 We were particularly interested in the efforts of Dr Giles Yeo to help improve healthier choices at some of the takeaways on Chillingham Road in Newcastle, otherwise known as 'Takeaway Mile'. Within a distance of 0.4 miles there are an incredible 19 takeaways. At Gill's Fish Bar, an interesting exchange occurs about the Coca-Cola branded fridge, full of soft drinks, near the counter of the fish and chip shop. The owner tells the presenter that the drinks fridge is provided by Coca-Cola, they maintain it, on the condition that 70% of the drinks are Coca-Cola products and that they are stocked at eye-height. There is genuine surprise from Dr Yeo at these free machines from big brands:
"I didn't realise – truthfully – that they [Coca-Cola] owned a fridge. To know that they actually mandate where you put the drinks…you know, the full-fat Coke here and what have you…I did not know that. They're Coke, and they're trying to control what we buy.
"Should I be surprised? Maybe I shouldn't be surprised. But it's worse than we thought."
Tim Varney, owner of Doozy, which supplies flexible and tailored healthy vending to organisations such as the University of Winchester, Salisbury District Hospital and Southampton Solent University, comments:
"Major brands like Coca-Cola and Mars are happy to provide fridges and free vending machines to businesses. From a vending perspective, it's the cheapest way for an organisation to operate. Usually these brands will specify how many and where their best-selling brands should be stocked. Having a free fridge or vending machine from one of the big brands, and offering healthy alternatives, are just not mutually compatible."
If you're an organisation looking to upgrade from your free vending machine to a bespoke, healthier vending solution or unmanned Doozy Café, get in touch!
To join Hugh's 'Newcastle Can' campaign, click here.
To catch up with the BBC series on iPlayer (worth a watch), click here.