June 5, 2018
If you're looking for inspiration to ditch the plastic, look no further than World Environment Day. The UN's most important day for encouraging worldwide awareness and action for the protection of our environment is widely celebrated in over 100 countries.
2018's theme is 'Beat Plastic Pollution', if you can't reuse it, refuse it. It invites us to consider how we can make changes in our everyday lives to reduce the burden of plastic pollution in our natural places, our wildlife and our own health.
Inspiration to take better care of our planet has come from a number of sources. Here are a few:
Blue Planet Two narrated by Sir David Attenborough, told the story of the seas, showing the animals that live there and the environments in which they roam. One of the focuses of the series was the damage that plastic has done to these environments and the consequences for those animals. Filming took place over four years and featured animals such as an albatross parent unwittingly feeding its' chicks plastic. Blue Planet received an emotional reaction from viewers. Here's just one.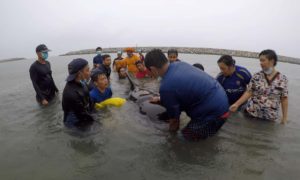 A mammoth 91% of the single-use plastic we use worldwide isn't recycled (Source: National Geographic). And that means it affects us all, a big excuse to beat plastic pollution. Arguably most impacted is the wildlife that accidentally swallows plastic when mistaking it for food. This story broke in May 2017 and pulled at the heartstrings of thousands. A pilot whale washed up on a beach in Thailand with no less than 80 plastic bags found inside. The plastic bulk in its stomach stopped the whale from eating food and samples showed it had a bacterial infection in its lungs. The small whale vomited up five bags while rescuers used buoys to keep it afloat in a rescue attempt that lasted five days, even using an umbrella to shield it from the sun. Ultimately, the attempt failed however as the whale was too sick from swallowing the plastic to keep him alive. The plastic bags were not from supermarkets in Thailand meaning they traveled or the whale picked them up from elsewhere.
What can we do for change?
It's clear that we have become over-reliant on single-use plastics. Challenges are facing businesses as we ask ourselves how we can be more environmentally conscious and they are facing individuals as well. There are many companies who are starting to take the protection of our environment seriously, including some of the most well-known. Marks and Spencer already have 90% recyclable packaging and Iceland announced that they were going to be the first UK retailer to commit to eliminating plastic packaging for all its own brand products, opting instead to use packaging made of paper and pulp. The government too has made some changes. In 2015, they added a 5p plastic bag charge which has seen an 80% reduction in the use of them. A fantastic result for wildlife who mistake it for food, such as the pilot whale.
At Doozy, we have switched to eco-roasted coffee and are making every effort to reuse or buy our products from sustainable sources. This includes choosing products such as Graze and more environmentally environmentally conscious brands.
We've got a long way to go, but as Sir David Attenborough said in his closing speech for Blue Planet, "The future of all life now depends on us."
So, what will you do to #beatplasticpollution this World Environment Day?