July 19, 2018
 As of 2015, the amount of plastic ever created stands at approximately 8.3 billion tonnes. Of that, 9% has been recycled, 12% incinerated and a massive 79% has ended up in landfills or the natural environment. It has been estimated that by 2050, this number will grow to 12 billion tonnes of plastic. Many people are in agreement that something must be done, however what and how is still up for discussion. Iceland, a major UK supermarket, has been leading the way in reducing the amount of plastic waste it generates.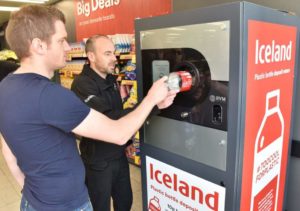 Iceland have made a start by promising that all their own brand packaging will be plastic-free. Now they have also introduced reverse recycling machines, to be trialled at some of their supermarkets for plastic bottles which are brought within their stores. Plastic bottles are one of the most common types of plastic waste. Some 480 billion plastic bottles were sold globally in 2016, the equivalent to a million bottles per minute. Of that, less than 50% are collected for recycling. 
The UK government debated the huge amount of plastic waste recently and suggested that a deposit return scheme may be an option to reduce it. In response to this, Iceland wanted to show how it can work. In essence, reverse vending machines reward customers for recycling. This could be in the form of money or vouchers in return of empty containers. Iceland decided that for each plastic bottle returned a customer would get a 10p voucher to spend in store. The rest of the UK are tailing behind Scotland, who in September 2017, announced they would be introducing a deposit return scheme for drinks containers. Glasgow University have already introduced reverse vending machines to campus on a trial and will measure the impact it has.
Iceland claims that the data gathered by the trial will allow both the retailer and the government to access how viable the return schemes are. Iceland's Managing Director, Richard Walker said, "We're the first supermarket to take decisive action to bring the reverse vending machine into stores, following the announcement of the governments support for a deposit return scheme in England.
"We're doing it properly, through consultation with suppliers and by gaining understanding of how customers will act in response to the machine,"
Iceland received a positive response, not just from customers but also acknowledgement for the government. Michael Gove, Environment Secretary applauded Iceland for leading the way saying, "Support from businesses will be a vital part of ensuring we leave our environment in a better state than we found it."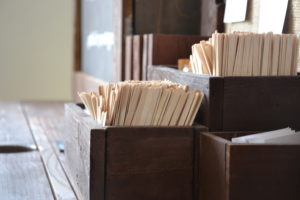 Other businesses have made protecting the environment a top priority too. We are always looking at options including making sure our wood is from sustainable sources, and our coffee too. In addition, we said goodbye to Doozy plastic stirrers a few years ago and replaced them with wooden ones and we are now looking at the best option for a coffee cup. Marks and Spencer's have already made sure that 90% of their own packaging is recyclable in the UK. McDonald's announced they would be switching from the conventional plastic straw to the more environmentally-friendly paper version. This will make a huge difference as in the UK alone they get through 1.8 million McDonalds straws a day!
The statistics on plastic waste are staggering, but there is light at the end of the tunnel. After the first trial showed some promise, Iceland announced they wanted to extend it to more stores. Watch this space. Deposit return schemes could be coming to a supermarket near you.