July 26, 2018
In a bid to reduce the overuse and waste of 2.5bn disposable cups every year, Starbucks have taken action. They have become the first coffee brand in the UK to introduce a Starbucks levy of 5p for single use paper cups. Disposable cups cannot be recycled by normal systems because they are made from cardboard with a polyethylene liner that is difficult to remove. As a result, just 1 in every 400 cups is recycled.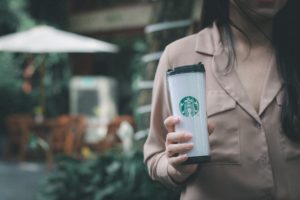 This problem has been acknowledged. Back in January, MP's called for a 25p cup charge to be brought in on top of the price for all hot drinks to help curb the amount of single-use coffee cups that go to waste. Otherwise known as the latte levy. However, the government decided it was not something they wanted to pursue currently. This decision was made despite the recent 5p carrier bag charge which saw an 83% reduction in its first year as people switched to bags for life.
Although the government weren't prepared to impose the latte levy, Starbucks responded by trialing a 5p charge for single use cups at some of their stores in London. They did this in partnership with environmental charity Hubbub, to pilot a 5p charge for single use cups at some of their stores in London. The trial revealed a promising 126% rise in the use of reusable cups, measured by the amount of people redeeming the 25p discount for those using reusables. Following this success, Starbucks are rolling it out across the UK. Martin Broke, The President of Starbucks Europe, Middle East and Africa, said that, "Extending this across Britain is an exciting step and we're hoping this change will remind customers to rethink their use of single-use plastic as they have with plastic bags."
Who are Hubbub?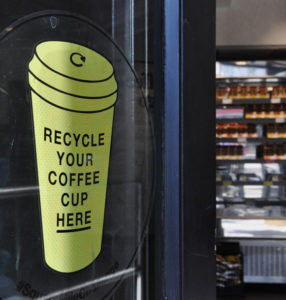 Hubbub is an environmental charity who inspire people to make healthier, greener lifestyle choices. They base their campaigns on research and insights from across the UK and the world. In April 2017, Hubbub joined forces with coffee shops in London and set up specific recycling bins for cups which would then be delivered to designated recycling centres in the UK. The called it The Square Mile Challenge and involved 100 retailers. The challenge collected 4 million coffee cups and they have ambitions to get more and more businesses on board. They partnered with Starbucks during their original latte levy trial and will continue with the nationwide roll out. The proceeds of the Starbucks latte levy will be invested in further work to support recycling and sustainability efforts with Hubbub.
Are there any alternatives to a charge?
In 1998, Starbucks became the first coffee shop in the UK to introduce a discount for customers who brought in reusables. They started at 10p but with little impact they upped this to 25p and other coffee shops followed their lead by introducing discounts of their own. Pret a Manger now offer 50p discount. Even still, it was only used for 1-2% of purchases across the coffee shop chains. It is expected that a ban will have far more impact than a discount, and the Starbucks trial seems to prove this theory.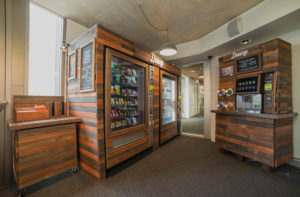 Doozy client, University of Winchester, trialed a different version of the discount and saw high levels of success. So much so that they were shortlisted for a national award. They cut the price of all hot drinks by 25p and then charged those who didn't have a reusable cup the full price. This simple change has impacted on the way people think. Before 3 in every 100 hot drinks were put in a reusable cup but now that figure is 30 in every 100. The university found that in their first year of the new pricing, they saved 34,000 cups.
When is the 5p cup charge coming into effect?
The announcement for the 5p cup charge came after the successful three-month trial in London. From the 26thof July, the Starbucks latte levy will roll out across all of its 950 stores in the UK. The decision could be regarded as a brave one considering no other coffee chain in the UK is doing it. Potential and current customers may change loyalties to another brand to avoid paying the charge. The trial suggests the environmental pull is enough to encourage many to bring in reusable cups. It will be exciting to see the impact this charge has, both for Starbucks but also – Will the other coffee shops follow suit?
Hubbub Co Fonder Gavin Ellis had this to say, "Previous studies have shown that adding a charge on single-use cups is more effective than money off with a reusable cup. We're excited to be working on the Starbucks latte levy initiative to find out if this is the case on the high street and to discover what else will encourage people to use reusable cups".
At Doozy we follow these trials with great interest and hope that some of the findings, and research into alternative coffee cup material, can be incorporated into the vending industry.