June 12, 2018
It has become increasingly imperative for companies to keep a close eye on their nutritional guidelines. This in the wake of large campaigns headed by the likes of Jamie Oliver and Hugh Fearnley-Whittingstall and conversations around the nationwide obesity crisis. This goes for those who supply products, such as vending companies, brands themselves and even those that advertise, such as TV companies and those who provide space for the supply of products, such as a hospital or a shop.
What are the facts?
In the UK, almost 7 in 10 men and 6 in 19 women are either overweight or obese (Source: Nutrition.org).
In the UK, 1 in every 10 young people aged 5-19 is obese (Source: BBC News). And obese children are more likely to become obese adults, putting them at risk of health problems.
In the UK, more the 22.000 children will leave primary school dangerously obese in 2018 (Source: Telegraph).
It seems many of us are consuming far more energy (calories) than we need. Researchers believe that wide availability and the promotion of cheap, fattening food is one of the main drivers for the obesity crisis. These numbers are staggering, but attempts are being made by the government and some brands to aid people when it comes to making better food choices.
Dr Alison Tedstone, chief nutritionist at Public Health England, said: "Our sugar reduction programme and the government's sugar levy are world-leading, but this is just the beginning of a long journey to tackle the challenge of a generation.
"The evidence is clear, that just telling people what to do won't work. Whilst education and information are important, deeper actions are needed to help us lower calorie consumption and achieve healthier diets."
According to new plans set out by the government, fast food outlets and restaurants will have to display the number of calories in every burger and plate of food. A further strategy will include rules to ban the sale of chocolate bars and other unhealthy snacks near the checkouts of corner shops.
Other strategies have been talked about as well. One study which suggested that graphic images of rotting teeth on sugary drinks (such as those featured on the front of cigarette packets) could help tackle obesity. It is believed that graphic images will put people off going for the unhealthy option. Further proposed changes suggest measures to ban junk food advertising before the 9pm watershed. It is expected that this will discourage the promotion of sugary and fatty food aimed at children. Research for this ban showed that children who remembered watching a high number of adverts for food high in fat, sugar or salt had more unhealthy diets. It is believed the junk food ban would prompt a change.
Whilst these strategies could go someway to making a dent in the obesity crisis, the guidelines on nutrition are not specific to what the products can be. This means there is no incentive for those effected to provide healthier products for their consumers. It could be proposed that by suggesting nutrition guidelines for some of the products, consumers will be able to opt into eating healthier. For example, the sugar tax on fizzy drinks was introduced and saw a number of brands tweak their recipes to reduce the sugar content, including Ribena and Sprite. Interestingly, whilst the Coca-Cola brand tweaked the sugar content for some of their products, they were not prepared to do the same for the original Coke. Instead consumers now have to pay considerably more. Future taxes are expected, possibly in relation to milk-based drinks such as hot chocolate.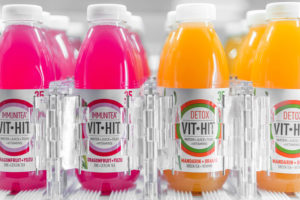 At Doozy, we would rather not wait for taxes and bans and instead come up with our own nutritional guidelines. Healthy has been on our radar for over 10 years, since Jamie Oliver started to tackle what food was available in schools. Since then, healthy eating has started to rise up on peoples agenda, and with increasing demand from clients and consumers, it has become clear to us that one row of healthy food in a vending machine or a few 'diet' options just isn't enough.
Our original selection featured an entirely healthy product range but early reports quickly told us that consumers wanted more choice. Previous experience taught us that placing healthier food next to big brands people recognised meant people usually reached for the unhealthy option, the one they knew. For this reason, we choose smaller (and often local) brands to sit alongside our healthy products as an indulgence selection. Products here include Dorset flapjacks and Traybakes, and usually make up less than 20% of a machine. Our healthy range has developed considerably, with new brands including Graze and Love Corn. We've put together a selection of the products we offer here. None of our products are affected by the sugar tax as they already fit within the guidelines (they also fit within hospital CQUIN guidelines too.
We are well on our way to setting our very own nutritional guidelines. This includes staying away from 'diet' products and artificial sweeteners and instead researching (and sampling) products which go to lengths to make sure they really do offer consumers a healthy option. Realising the importance of nutrition we now have a dedicated products team who are always on the lookout for new healthy options for our Doozy machines.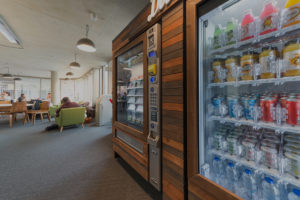 Please have a look at our handy Nutritional Guidelines on Doozy products. If there are any products you'd love to see in a Doozy machine, drop us an email!