November 7, 2018
It is common knowledge that in order to eat healthily, we need to consume a varied and balanced diet. Choosing what goes into that diet is tricky. Making sure we get the right amount of fruit and veg is trickier still. The World Health Organisation and the Department of Health recommend that we should eat 5 portions of fruit and vegetables every day. These portions can come from fresh, canned and frozen fruit or vegetables. Whilst this is very possible at home, what about when we are on the go? A handful of companies are making consuming a portion when out and about easier by introducing healthy vending products which contain 1 of your fruit/veg potion. And bonus – they are delicious too!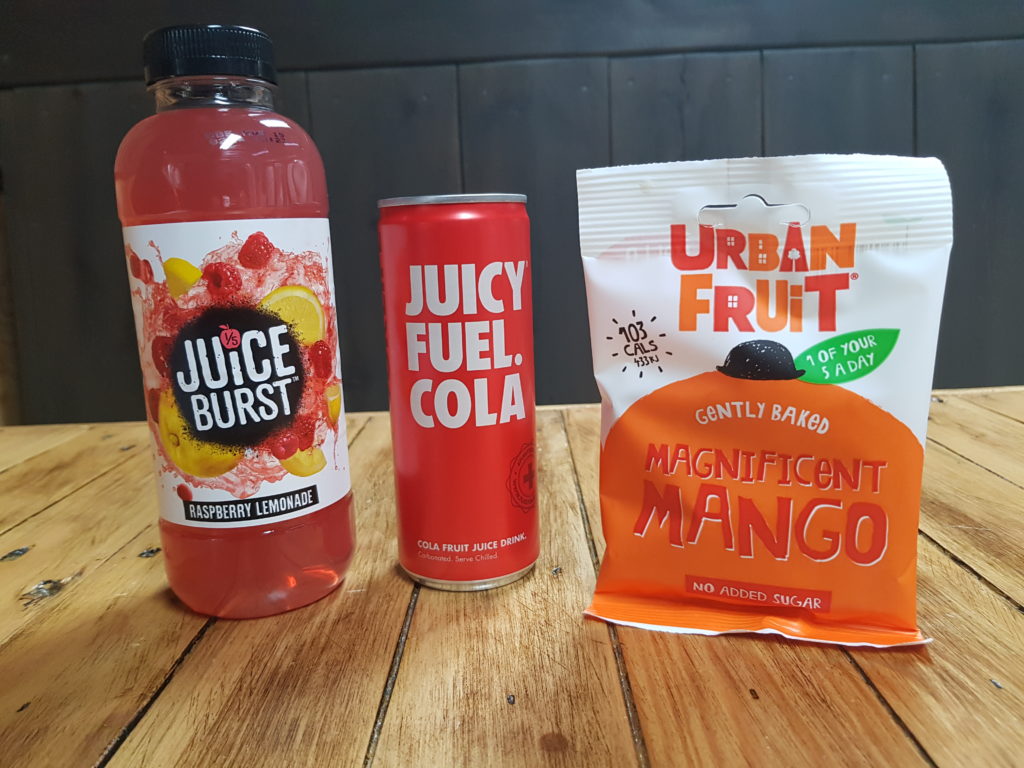 The benefits of eating more fruit and vegetables include:
✔️ They are packed with essential vitamins and minerals which are good for us.
✔️ Many of the nutrients found in fruit and veg act as powerful antioxidants, protecting the body.
✔️ Studies show that those who consume fruit and veg are at less risk of developing many diseases, such as obesity, heart disease and some cancers.
✔️They can help you maintain a healthy weight as they are also low in energy (calories).
✔️ They provide fibre which helps keep your digestive system healthy.
Although the benefits are well known, the majority of people in the UK are at least one portion of fruit and veg short a day. Only, 8% of teens and a third of adults actually meet the guidelines. We're here to make this a little easier by providing some delicious healthy vending products which are also 1 of your 5 a day.
Juicy Fuel Cola
This 100% sparkling fruit juice offers a delicious alternative to Coke, with none of the nasties. Over the Summer, Juicy Fuel Cola was our best selling cold drink after water! All ingredients are grown, which means they don't use any preservatives or artificially manufactured ingredients. Along with all of our soft drinks, Juicy Fuel Cola is not affected by the sugar tax as it does not contain added sugar.
Urban Fruit
A favourite for young and old, we have three different Urban Fruit flavours; Pineapple, Strawberry and Mango. They are 100% natural, high in fibre and gluten-free. Literally just fruit, delicious fruit. Gently baked with no refined sugar or concentrates. By baking the fruit for a long time at low temperatures, the product retains almost all of the natural goodness but makes it far easier and less messy, to eat on the go.

Juice Burst
This yummy fruit juice comes in a variety of flavours, we have chosen three for our Doozy Menu; Raspberry Lemonade, Orange and Tropical. Juice Burst drinks contain no artificial colours, flavours, sweeteners or preservatives.  And, of course, all Juice Burst drinks are exempt from the sugar tax because they do not include any added sugar.
We often talk about how our chosen products do not contain artificial sweeteners, find out why these popular additions for many products may not be as innocent as they seem.
At Doozy HQ, ware always on the lookout for more healthy and nutritious products. More and more companies are meeting the demand for guilt-free healthy vending products. We can't wait to see what they bring out next!