October 18, 2018
The vending machine has long stood as the epitome of sugary snacks and cold drinks. But we are on a mission to change this perception. And what better place to introduce healthy vending than colleges across the UK.
Instead of expecting Walkers crisps and cans of Coke, people will instead see protein bars such as Trek and Juicy Fuel Cola. Providing healthier products to students makes it much easier for them to lead a healthy lifestyle. The move towards healthy has picked up speed following concerns and continuous warnings about the health risks of consuming too much sugar.
Official recommendations from the government are for teenagers to have no more than 5% of sugar in their diet and yet, for most teenagers, this figure stands at 14.1% (Source: gov.uk). This is partly due to the lack of choices when it comes to snacking in between lessons. Interestingly a report from the Telegraph discussed a study from 2015. Although the study shows there are staggering rates of obesity among the 'millennium generation', there is hope that health messages are coming through to younger children. Overall, sweet and fizzy consumption has declined over the past 15 years (Source: Daily Mail), correlating with a growing popularity for healthy products. As college students, now in their mid to late teens, gain greater independence, they have more say over what they eat. Colleges are therefore in a position to offer the best possible choices. But with one in three British teenagers overweight or obese (Source: SBS) it is important now more than ever to encourage them to eat healthier food.
Implementing Healthy Vending in Colleges can:
Increase the variety of food and drink available throughout the college
Provide refreshments throughout the day, even when the main café area is closed
Inspire a healthier lifestyle
Provide a grab and go option for students which reduces pressure on busy cafes
Help keep students on site during the day
Generate income for the college
Keeps parents happy as healthy products are available for their children.
A Very Doozy Example:
Back in 2017, Barton Peveril welcomed Doozy with open arms into its modern school. We already have a track record with introducing healthy vending at universities and we were excited to see how it would go down with younger teenagers/college students.
Located in Eastleigh, Hampshire, the college provides an education for approximately 4,000 students. It is one of the largest sixth form colleges in the UK. We were originally contacted by James Lacey, the Business Manager for Catering and Retail, who was looking for an alternative to their current fizzy drinks and chocolate bar machines. Students and staff embraced the new machines and really took to the healthy alternatives. Here is what James had to say,
"Doozy Vending provide Barton Peveril College with a modern take on vending, the unique use of recycled wooden pallets that adorn the machines really make them stand out from the norm and the products aren't your usual vending fayre either, a students recently commented to me that the products on offer are 'just the right amount of healthy'. If you are looking for a modern vending solution, I recommend contacting Doozy vending".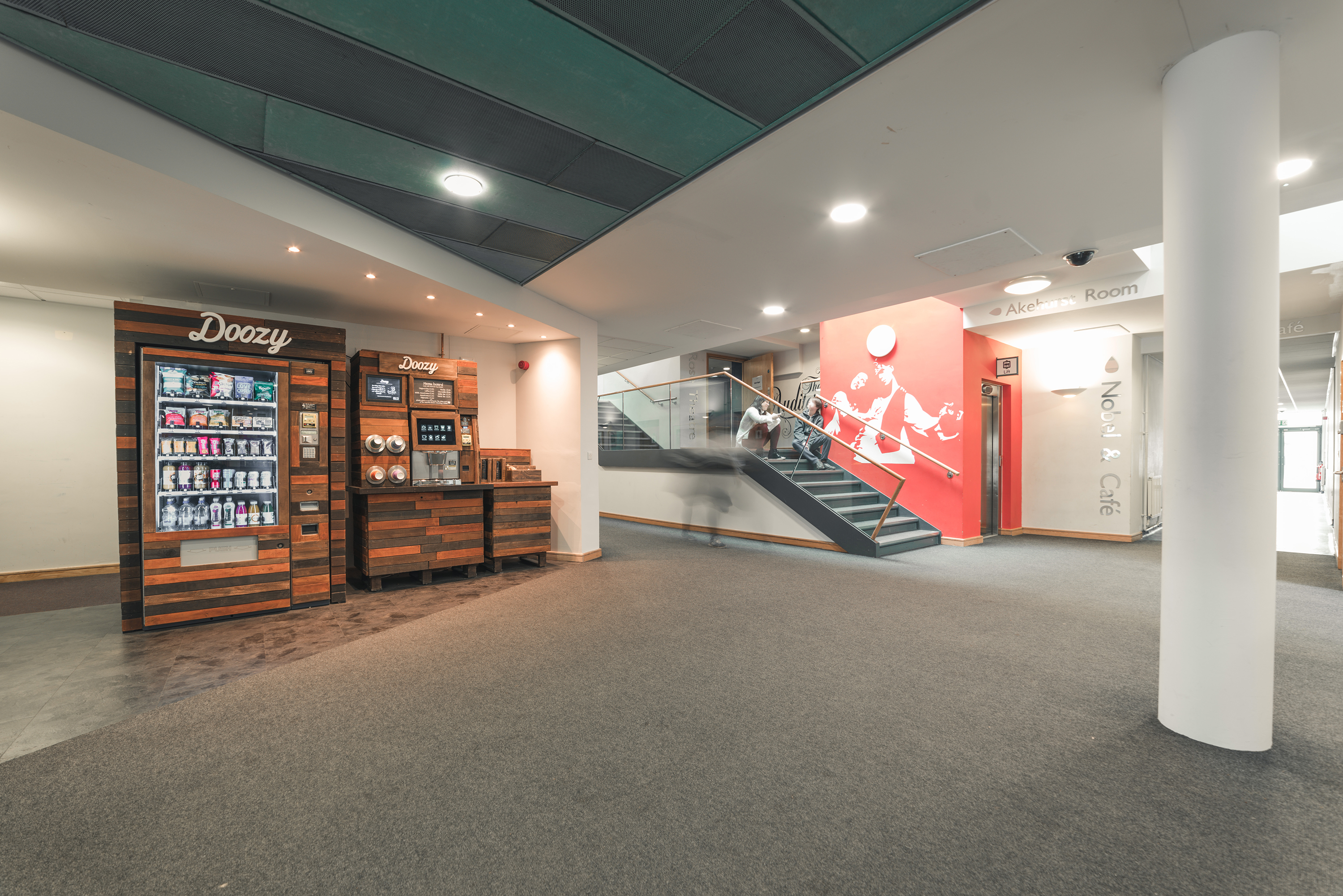 What could healthy vending do for your college?