October 19, 2018
A university, a hospital or a leisure centre, healthy vending solutions have to cater to all types of locations.
Where a university will want 24/7 vending for busy students, a transport hub will have busy commuter times. A leisure centre needs to cater for people of all ages whereas a hospital has to provide refreshments for staff, patients and visitors.
Whilst it was clear to us that the face of vending needed to change in terms of more healthy products, we realised the look of vending needed to be far more versatile as well. Our very first Doozy was installed at Solent University. And since then, each has been different from the last.
Salisbury District Hospital – Around the clock, 365 days a year
Hospitals are one of the busiest sites for many vending companies. Salisbury Hospital is no exception. Their incredibly busy staff, patients and visitors need access to refreshments 24/7, every single day of the year. With tightly squeezed budgets, it is too much of a luxury to have cafes open all the time. Healthy vending becomes the perfect solution. We make sure our products go over and above the CQUIN guidelines, offering a variety of healthy snacks and cold drinks. As well as hot drinks, plenty of coffee to help people through their day.

Barton Peveril Sixth Form – The modern college
An instant delight for students, Barton Peveril was installed in September 2017, ready for the new school year. One student even commented that the products are 'just the right amount of healthy'. This ultra-modern college wanted an attractive design which would look good within their buildings. Our machines encased in sustainable wood complemented the modern interior. For this location, it was important to have access to healthy snacks and drinks during the school day but also at evening and weekend events.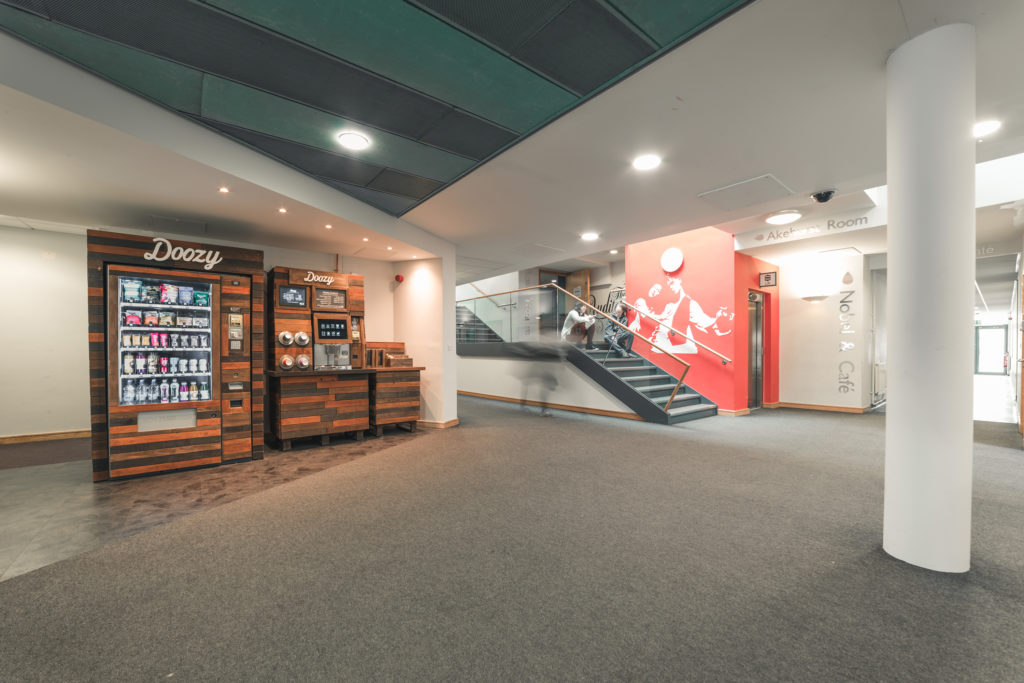 Solent University – From vending grab and go to entire vending cafes
We installed our first ever Doozy at Solent University in 2014, the first of many. The most recent is in their new building, The Spark. This modern part of the uni required a new design from us, so we gave the machine casing a white look. In 2017, we opened Doozy at the Dock. This vending cafe gave the students a place to refuel and relax, which could be open when the main catering areas were not. Doozy at the Den followed close behind, another vending cafe in the student union.

The Hard Interchange Portsmouth – The commuters dream
The Hard Interchange at Portsmouth Harbour serves many commuters and tourists as a transport hub. Doozy was introduced so they could grab a coffee or snacks/cold drink on the way through to their destination.

New Forest Leisure Centres – For the health conscious.
New Forest District Council takes care of five leisure centres. Each one wanted something a little different from us when we installed Doozy in 2015. One location knocked a wall down to make way for the perfect vending area, others required a variety of machines. All five sites wanted eye-catching vending with a variety of healthy choices.

The Doozy Showroom
Just this month we opened our brand new Doozy showroom. Whilst people use it for meetings and breaks from work, its main purpose is to show what we can do. The showroom comprises of our all-important hot drinks machine, offering tea, latte and mocha to name a few. Also, two machines providing a wide selection of healthy cold drinks and snacks.