October 29, 2019
From a hospital to a leisure centre, no location is the same. But they do have one thing in common.
They all have the potential to offer delicious coffee and healthy snacks/cold drinks. And our Doozy vending machines allow them to do just that.
Access to healthy products on the go has not been a priority for retailers. For too long, the focus has been on big sellers, the Mars and Walkers of the world. The fear? That without these household names, profits would tumble. This means that profits have been prioritised above peoples health. Interestingly, we've found that this is not the case. We knew it was a gamble when we stripped our machines of the big brands and replaced them with often smaller, less known healthy choices. But, it was an essential gamble, and one we were prepared to take. Patients in hospitals needed nutritious choices, students studying late into the night needed healthy refreshments and gym-goers needed alternatives to chocolate bars and crisps.
Our first Doozy vending machines were installed at Solent University back in 2014. It quickly became clear that selling healthy products and outstanding coffee through our Doozy machines was the perfect solution. Sales increased and we continued to install Doozy across the campus. Five years on and we have shown how our Doozy vending machines thrive in various locations. Here is a breakdown, including some Doozy data from our very own sites.
Hospitals
Obesity-related illnesses cost the NHS a staggering £6.1 billion per year. And yet, three-quarters of food brought at UK hospitals is unhealthy. Healthcare providers across the country are often lacking healthy options but some are starting to change. Guidelines, including CQUIN, have been brought in to encourage this. We've been fortunate to work with several hospitals. Our first, Salisbury Hospital, shows that the machines are in use 24/7. With patients staying overnight and many staff on late shifts, this is no surprise. The machines are also in use throughout the year with a slight increase in the winter months. Particularly the Doozy coffee machines are in high demand! Salisbury have started offering more food options including microwave meals and noodle pots. This is possible through our innovative new machines which allow for alterations so they can vend a variety of products.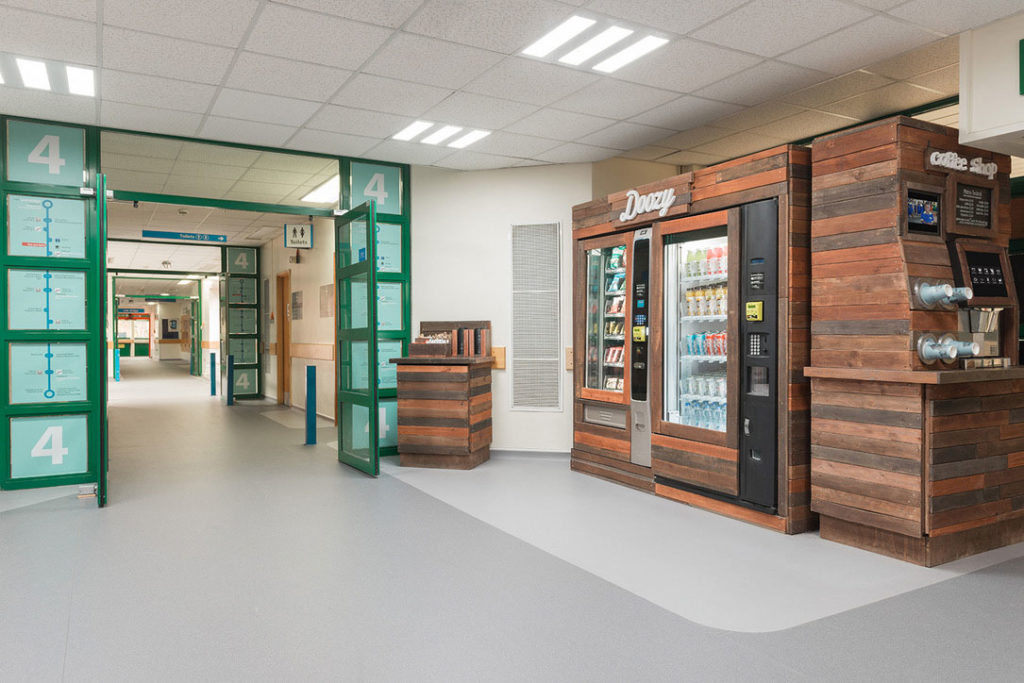 Universities
Over the last few years, a growing trend has arisen with young people. They are eating healthier than ever before. In fact, nearly half of those between the ages of 18 and 24 have changed their eating habits in favour of a healthier diet. Doozy has found a home at several universities across the UK including the University of Leeds and the University of Winchester. All our universities embraced the healthy products and delicious coffee. University sales reach their peak in both November and March. This is the busiest time for work hand-in's and exam preparation. Across our universities, most sales take place during the day, between 7 am and 5 pm. Interestingly, there is just one location that bucks this trend, the library. These machines are busiest in the evening with sales (mostly coffee) going on into the early hours of the morning. This is clearly the time most students choose to study, and they need a little refreshment to get them through!
Schools and Colleges
Currently, around 1 in 5 children leave primary school obese. We are in the midst of an obesity epidemic and the youngest members of society are starting their lives overweight. Bad habits as a child often transfers to adulthood. By providing healthy products we can help with this problem. Vending machines are the most convenient way to grab a snack, but we don't need to cram them with calorific items. One of our colleges, Barton Peveril, introduced Doozy back in 2017. The college opened late some evenings and wanted to be able to offer refreshments without having to provide staff for their café. In addition, their large number of students had no access to healthy snacks. Our solution has provided them with the answer to both these issues. It is no surprise that lunchtime sees the biggest sales peak at our colleges with the busiest season between April and June (exam time!).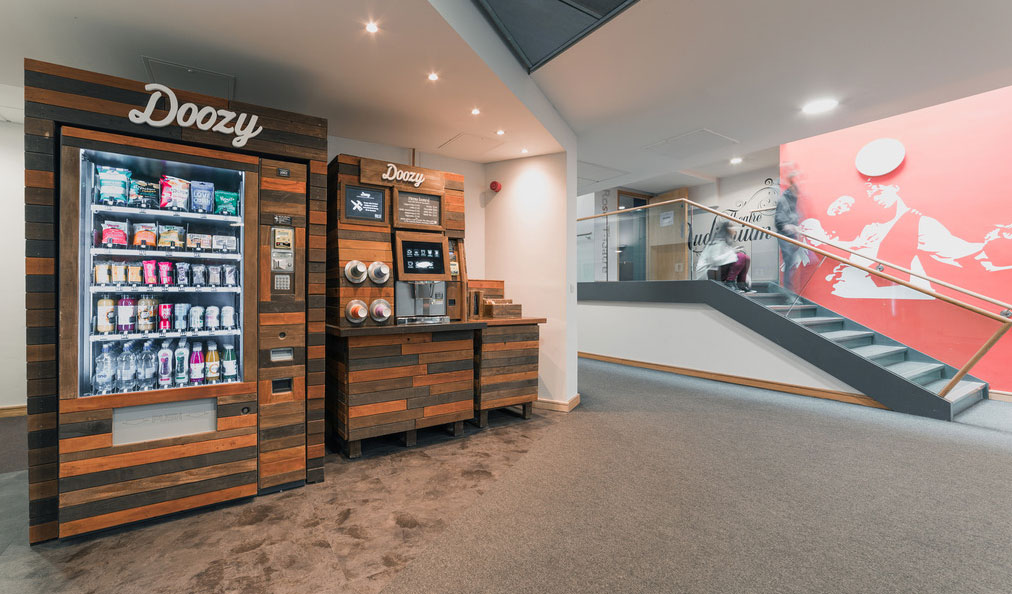 Leisure Centres
Healthy vending is perfect for leisure centres. Attendees here fit into our most diverse demographics. From keen gym-goers to children/families attending lessons and leisure activities. Besides, there are often parents hanging around for their children in need of a refreshment or two. People flock to the leisure centres and our doozy vending machines straight after work, sales peak just after 5 pm. This is probably a mixture of waiting parents and gym fans getting a session in post work. As expected, most sales take place in January with people aiming to start the year off healthy. The summer sees the biggest dip as people go on holiday/spend more time outdoors.
Business Estates
Working 9-5 requires some coffee to help us through the day! Our Doozy showroom is positioned in a business centre just outside of Salisbury. The ideal location for the wide range of businesses on the estate to pop in for a drink or snack. Of course, the morning brings in the most people, the early risers in need of a pick me up before the working day starts, peaking at 8 am. The highest number of sales take place on Monday, and it's the coffee machine which takes a beating, providing everyone with a good start to the week.
Travel Hubs
Our lives are busy and the need for quick refreshments is essential. We see this especially at The Hard Interchange in Portsmouth. At this travel hub, buses meet trains, delivering people to work or off on adventures. During the week our Doozy travel hubs are awash with workers, busiest before 9 am and after 5 pm. The weekends paint a different picture. Various age ranges pitch up for a drink and snack before heading off for a day trip. Saturdays take in the most sales, spread out during the day. With friends and families choosing to spend their weekend in various places, they pass through the travel hub at any time.

Does your organisation need a Doozy vending machine? Contact us today!