February 11, 2019
When we introduced our brand new healthy vending brand in 2014 it was with a little caution. As a company, we had worked in vending for nearly three decades, but to go healthy was a new adventure. Yes, we knew that more people were craving healthier products. We also knew that the obesity crisis was gaining more attention. But the big brands still have a hold on people. Will people be prepared to turn away from Coke? Will they still crave chocolate bars?
It has been a learning curve. Putting healthy products in a standard machine isn't enough to draw people away from high sugar products. Despite best intentions, the temptation of the usual brand favourites is too much. But when the entire machine features healthy products, we see a different story. The healthy products, sold alongside our delicious coffees and teas, have gone down a storm. Install after install have shown that when switching from traditional vending to Doozy, sales grew. For an example, see our Salisbury Hospital Case Study.
To our delight, people have embraced healthy vending. It doesn't matter if we install at a university, a hospital or even a college. People of all ages have welcomed Doozy. It appears that making the healthy option the easy option is the right thing to do.
Our menu has changed since its first introduction. New products have entered the scene and we now have a mixture of gluten-free, protein-rich, vegan-friendly and even a small indulgence range. Our drinks vary from fruit juices to low-calorie vitamin drinks. It has been four years since Doozy's introduction. We decided it was a good time to compare our current best sellers with the average traditional vending machine best sellers.
Traditional Vending Snacks VS Healthy Vending Snacks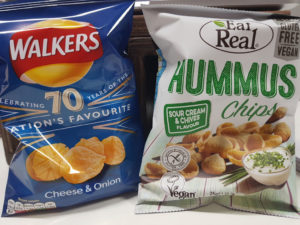 Walkers dominate the traditional snacks best sellers. A bag of the best-selling Max Paprika flavour contains a rather large 265 calories and 16.3g of fat per bag. This is a sharp contrast to our best-selling snack – Eat Real Hummus Chips. Calories stand at 119 calories per pack, and fat – just 5.8g. Walkers Crips remain popular with 10 million packets produced a day. By making a simple switch to much healthier choices, such as Eat Real or Proper Corn, we can make a big difference to our health. The British Heart Foundation calculated that a person eating a packet of crisps a day is the equivalent of drinking almost 5 litres of cooking oil in a year.
Traditional Vending Confectionary VS Healthy Vending Confectionary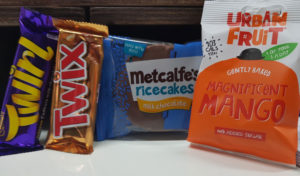 We are pleased to see that our Doozy confectionary best sellers contain a real mixture of products. The Snacking Essentials Chocolate raisins made the spot this time with Metcalfes Rice Cakes (Milk Chocolate) following closely behind. Also in the top five were Urban Fruit, a popular dried fruit snack that is also 1 of your 5 a day. This is quite different from the traditional snacks which feature 5 calorific chocolate bars. A Twix alone racks up nearly 250 calories. Metcalfe's Rice Cake (Milk Chocolate), for example, contains 162 calories per pack.
Traditional Vending Drinks VS Healthy Vending Drinks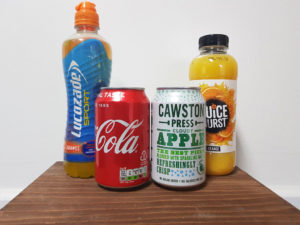 Unsurprisingly, topping the Doozy list is water and Juice Burst. The latter is a very popular fruit juice drink. The variety of our drinks is impressive. Some, such as Juice Burst and Juicy Fuel Cola contain one of your five a day. Others, such as Vit Hit, contain essential minerals. Get More Vits is completely gluten-free.
Traditional best-selling drinks tell a different story. Topping the list is Red Bull whose high caffeine content is cause for concern. One can of Red Bull contains roughly the same amount of caffeine as a cup of coffee. Vending machines are easily accessible for children who are more affected by caffeine than adults – hence why there is a concern. One or two cans of energy drink a day can cause serious damage to their health. Read more here. The sugar content of most of the best sellers is also a health worry. Red Bull, for example, contains 26g of sugar and a can of coke contains a huge 35g of sugar. Our Vit Hit Dragonfruit contains no more than 6.5g of sugar per bottle. It is true that the traditional best sellers contain 'diet' options with next to no sugar. However, concern has been raised about the artificial sweeteners that are used in its place.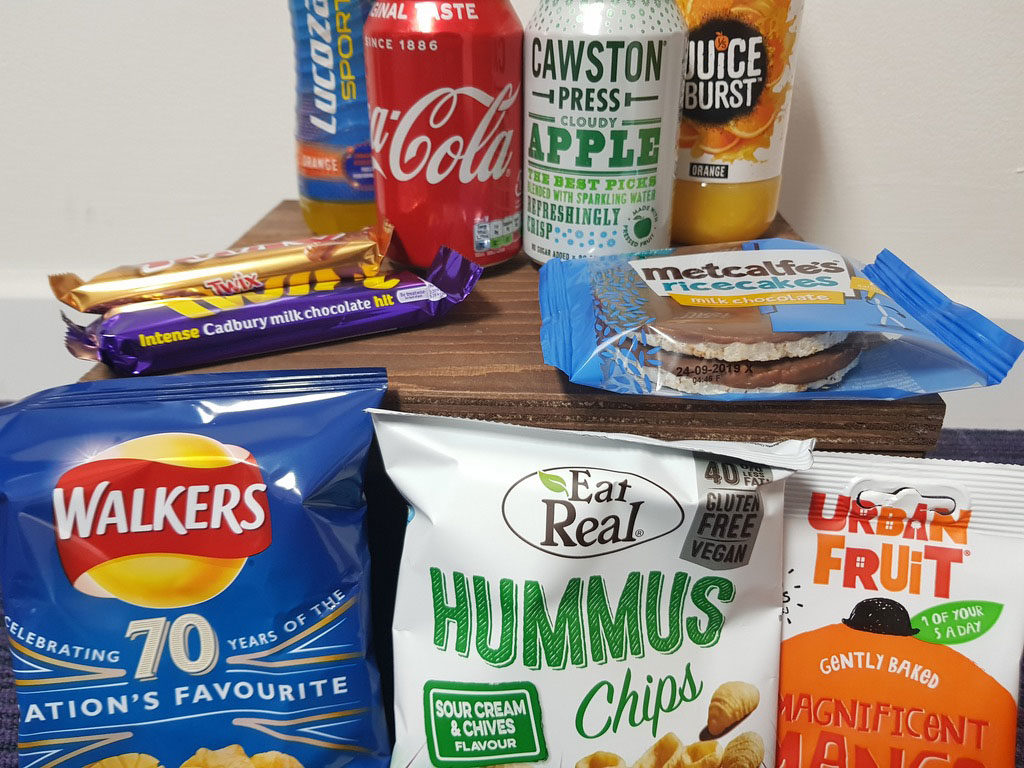 Overall, there is a huge difference in our best sellers as compared to traditional. Firstly, in their variety. Doozy options include gluten-free, vegan-friendly, products which are one of your five a day, fruit choices and even some with a little chocolate. The unsurprising traditional best-sellers feature very little option. The calorific value is exceedingly high in traditional products as is the sugar content. With the exception of water and diet drinks, the traditional bestsellers do not contain a single 'healthy' product.
"When we first created Doozy, the number of products that were in the market and demand for healthier food was in its early years. There were concerns over the brand awareness of some of the products and whether the lack of demand would be reflected with low sales in the machines. These concerns were cleared up quickly with more and more products flooding into the market and the rapid increase of demand for healthy food. We are delighted to look at this comparison now. We can see how different the machine makeup of brands can look and how much better for you the products are. We cannot wait to see what happens to healthy vending over the next few years. We believe that it is not only exciting but extremely rewarding." Dan Varney, Managing Director.